C'est le buzz mode qui fait parler les quelques parisiens qui ne sont pas encore partis en vacances... Un bruit de couloir qui a emprunté celui d'internet surtout et qui annonce l'arrivée à grand fracas d'une nouvelle marque.






Joie, bonheur dans le coeur de toutes les modeuses, et modeux , puisque la bien nommée The Kooples, dédicace extrêmement connotée aux groupes de rocks émergents, habillera hommes et femmes.
Vous connaissez nécessairement une certaine marque qui met en scène sur ses campagnes des couples mères filles depuis quelques années... Dans la lignée de ce succès, deux anciens de la famille qui créa Comptoir des Cotonniers, relancent les hostilités. Les ténébreux et très branchés frères Elisha seraient derrière ce qui s'annonce comme un lancement en fanfare dès le 1 er septembre, d'une vingtaine d'enseignes de la marque en France sur les plus grandes artères.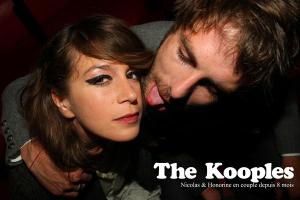 Un coup marketing retentissant accompagné d'une campagne de pub qui s'affiche déjà sur facebook ou myspace avec peu de membres encore, en attendant que vous succombiez aussi au charme so so so néo dandy de The Kooples et rejoigniez les happy few.
J'aimerais vous en dire plus mais l'esprit même de la philosphie de la marque me l'interdit autant que les indices très lacunaires dont on dispose de toute façon...
Voici donc les photos pour vous donner un avant goût, préparez votre homme pour la rentrée, la CB risque de fumer car il paraîtrait que les prix aussi seront claironnants...