Goth Ninja/Batman meets Rick Owens/Dorian Gray meets Damir Doma/Japanese rock star, whatever you call it, it's hot and it's growing.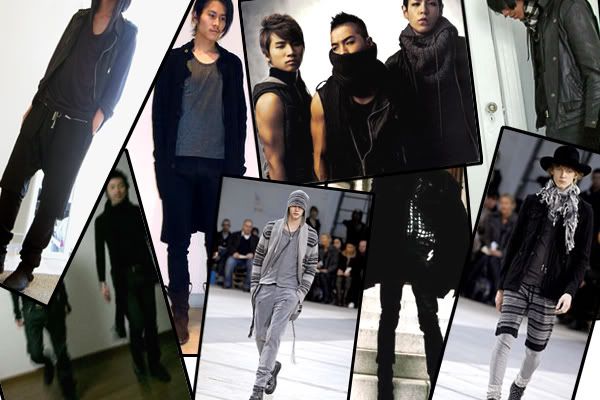 One of the biggest yet somehow underground driven trends in the last couple of years has been the Goth Ninja; and it's growing as a fashion trend in 2009. The figure hugging, black clad youths are perhaps the biggest consumers of the lesser celebrated designers. They've moved away from most big name Parisian and Milanese designers and reverted back to the Antwerp six and most recently the Tokyo 6 (or was it 7 or 8? I stopped counting after Mihara Yasuhiro).

Its origins are a little bit ambiguous but it seems to be a combination of a misconception of Japanese street wear and self made "waywt" celebrities. This makes it all the more interesting as it may not have necessarily been started out by any one designer or collection. Perhaps the closest one would be Takahiro Miyashita's Number (N)ine A/W 2006. The look has even been picked up by international celebrities such as Big Bang, and umm... well maybe more if the Sartorialist went to a Manifest exhibition which I'm sure would make the look more popular.
To the untrained eye they would definitely look stylish with no obvious logos showing but on closer inspection you would be looking at a full blown label whore. A typical outfit would demonstrate one's fashion knowledge displaying particular attention to design and detail with an expert ability to mix and match. Most outfits would consist of a basic tee from American Apparel, layered with an Ann Demeulemeester top; perhaps a Rick Owens knit and an Undercover or Martin Margiela coat. Bottoms are less daring with the elusive and figure hugging Dior Homme 17 cm jeans or a looser Comme Des Garcons drop-crotch. Throw in a Balenciaga The Day bag or a Louis Vuitton Shopper, some cheap silver accessories, a pair of very expensive Number (N)ine worn leather boot and there you have it. The look is raw, deconstructed, extremely modern but yet very controlled and still very masculine.

Fortunately you wouldn't find them rolling in pigeon blood at Flinders Street Station in Melbourne, nor would you see them running around with a samurai sword. They'd most likely be located outside of a Chanel store, distracted with stalking their female equivalents. This perhaps makes it easier to clobber them on their heads and run off with 10K worth of goods. Kidding.